Personnel de l'université
Brice TROUILLET
Professeur des universités /
Full Professor
Directeur de l'
UMR 6554 CNRS LETG
Coordonnées
BP 81227 F-44312 Nantes Cedex 3
Bureau

977, IGARUN

Tél

0253487672 (n° interne : 437672)

Mail
Discipline(s) enseignée(s)
Géographie maritime, Aménagement / planification de l'espace maritime, Pêches, Energie Marine Renouvelable, Gouvernance de l'océan, Cartographie et géomatique, Terrain et ateliers, Encadrement de mémoires
Maritime Geography, Marine Planning, Fisheries, Marine Renewable Energy, Ocean governance, Mapping & GIS, Fieldtrips & Workshops, Thesis supervision
Thèmes de recherche
Mes recherches portent sur la géographie de l'océan et plus particulièrement sur les relations entre les groupes humains et l'espace maritime. Par le spectre des STS et des approches critiques, et en m'intéressant à la planification spatiale marine notamment à travers les pêches et les énergies marines renouvelables, j'étudie comment les relations de pouvoir et les questions de connaissances s'entremêlent dans des dispositifs (géo)technologiques (cartes, portails de données...) et, ce faisant, façonnent des "agencements sociotechniques" qui médiatisent les rapports à "l'environnement" marin. J'invite celles et ceux qui auraient des intérêts de recherche similaires à me contacter pour une éventuelle collaboration ou supervision (master, doctorat).

Mots-clés: Océan, Planification Spatiale Marine (PSM), Pêches maritimes, Energie Marine Renouvelable (EMR), Science & Technologie studies (STS), Cartographie critique (géo-... critique), Co-production du savoir, Savoirs "non scientifiques", Géographies numériques.
My research focuses on ocean geography, more specifically on the relations between human groups and maritime space. Through the lens of STS and critical approaches, I particularly use the case of fisheries and marine renewable energy in marine spatial planning to study how power relations and knowledge issues intertwine in (geo)technological devices (maps, data portals...) that ultimately shape 'socio-technical agencements' forming an intermediate with the marine 'environment'. I invite anyone who might have converging interests to contact me for potential collaboration or supervision (Master, PhD).

Keywords: Ocean, Marine Spatial Planning (MSP), Fisheries, Marine Renewable Energy (MRE), Science & Technology studies (STS), Critical Cartography (critical geo-...), Co-production of knowledge, 'Non-scientific' Knowledge, Digital geographies.

Projets de recherche / research projects
Je suis actuellement impliqué dans 8 projets / I am currently involved in 8 projects:

Chaire maritime (coord. B. Trouillet; Fondation de l'U. Nantes, 2018-2023)
Data-Map (coord. B. Trouillet; WEAMEC, 2021-2024)
Fish2Sustainability (coord. R. Devillers, IRD; Belmont Forum,

ANR-21-SDG1-0001

, 2021-2023)
Knowledge flows in MSP (coord. L. Schroeder, U. Aalborg; EU, Erasmus +, 2019-1-DK01-KA203-060307, 2019-2022)
MSP4BIO (coord. I. Lukic, s.Pro; HORIZON-CL6-2021-BIODIV-01-12, 2022-2025)
Multi-Frame (coord. S. Altvater, s.Pro; Belmont Forum; coord. B. Trouillet, ANR-20-BFOC-0002, 2020-2023)
PADDLE (coord. M. Bonnin, IRD; EU, H2020-MSCA-RISE-734271, 2017-2023)
Re-DOp-Valpena (coord. N. Rollo; EMFF, 2021-2023)

Depuis 2007, j'ai obtenu 7 subventions (~2,1 M€) et ai été impliqué dans 16 autres / Since 2007, I received 7 grants (~2,1 M€) and I have been involved in 16 others (as PI).
Activités / CV
Education & carrière / career
2007-...: Enseignant-chercheur, Nantes Univ. (Faculty member)

2020-...: Professeur des universités (Full Professor)
2007-2020: Maître de conférences (Associate professor)

2019-2020: Maître de conférences hors-classe (Associate professor, higher categories)
2017-2018: Visiting Professor, Memorial University, St. John's, Canada (CRCT / one-year sabbatical)

2018: HDR (French degree needed to access the rank of full professor), géographie, Univ. Nantes [manuscri(p)t]
2004: Doctorat (PhD), géographie, Univ. Nantes [manuscri(p)t]
1999: Master, géographie-aménagement, Univ. Nantes
1997: Licence (Bachelor), géographie-aménagement, Univ. Rennes 2
Principales responsabilités / main services to community*
2022-...: directeur de l'UMR 6554 CNRS LETG / director of LETG (a CNRS research lab)
2014-...: directeur puis directeur-adjoint du GIS Valpena / director then deputy director of the GIS Valpena
2012-...: membre du Comité de direction de la FR CNRS IUML / member of the Steering Committee of the IUML (a CNRS research consortium)
2015-2020: directeur-adjoint de l'UMR 6554 CNRS LETG / deputy director of LETG (a CNRS research lab)
2012-2016: membre élu du Conseil scientifique de l'Univ. de Nantes / elected member of the Scientific Council of the Univ. of Nantes
2010-2012: membre élu de la section 39 du Comité National de la Recherche Scientifique (CoNRS) / elected member of the National Committee of the CNRS
2008-2015: resp. de formations (L2, M1 et M2) / program director of university degrees (Bachelor, Master).
Autres / others
Relecteur / reviewer: Annales de géographie, BSGLg, Cybium, Développement durable & Territoires, Frontiers in Marine Science, Géocarrefour, Journal of Environmental Policy & Planning, L'Espace Politique, M@ppemonde, Marine Policy, Maritime Studies, Mondes en développement, Norois, Ocean & Coastal Management, Planning Practice & Research, Territoires d'Afrique, Vertigo
Identifiants auteur / author identifiers: IDHAL, CV-HAL, ORCID, Loop Science, Google Scholar, Publons/Wef of Science
* Sauf pendant le congé pour recherche en 2017-2018 / except during the 2017-2018 sabbatical.
visited 31 states (13.7%)
Compléments / Add-ons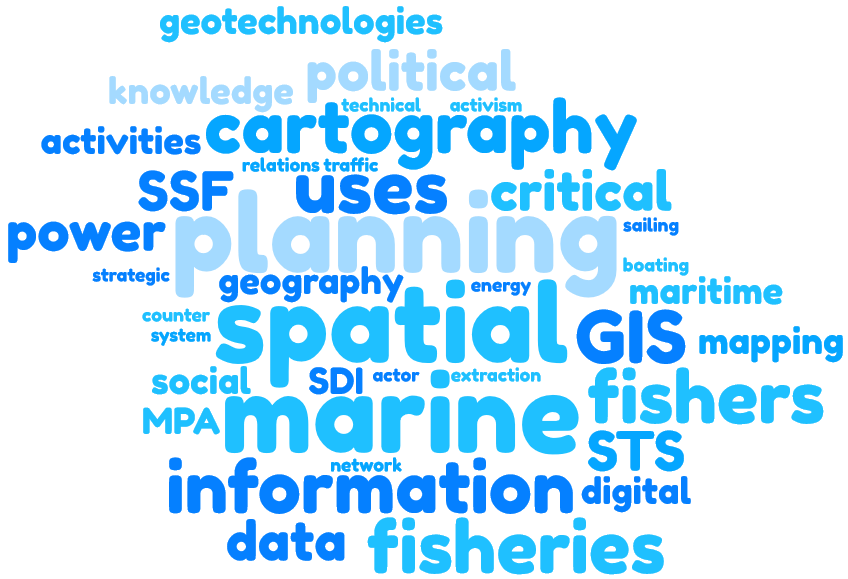 Missions internationales passées / à venir (Past/coming trips):
11/2022: Dakar / Casamance (SN)
09/2022: Malta (MT)
04/2022: Dakar (SN)
11/2021: Berlin (DE)
01/2020: Maroc (MA)
11/2019: Dakar / Petite côte (SN)
09/2019: Hambourg (DE)
07/2019: Amsterdam (NL)
05/2019: Warnemünde (DE)
04/2019: Dakar / St-Louis / Petite côte (SN)
03/2019: Lisbonne (PT)
01/2019: Breda (NL)
10/2018: Chiang Maï / Bangkok (TH)
08/2018: Malmö (SE)
08/2017-07/2018: St John's, NL (CA)
07/2017: Amsterdam (NL)
06/2017: Vigo (ES)
05/2017: St John's, NL / Montreal, Qc (CA)
04/2017: Boston, MA (USA)
12/2016: Oldenburg (DE)
10/2016: Liverpool (UK)
03/2016: Québec, Qc (CA) / Rutgers, NJ & New-York C., NY (USA)
06/2015: Amsterdam (NL)
06/2014: Iles de la Madeleine, Qc / Halifax, NS (CA)
04/2014: Java (ID)
11/2013: Gaspésie & Québec, Qc (CA)
10/2013: Java (ID)
06/2013: Amsterdam (NL)
05/2013: Liverpool (UK)
01/2013: Archipel de Chiloé (CL)
12/2012: Lisbonne (PT)
10/2012: Nouakchott / Banc d'Arguin (MR)
06/2012: Iles de la Madeleine, Qc (CA)
08/2011: Rimouski & Gaspésie, Qc (CA)
07/2011: Amsterdam (NL)
02/2011: Gand (BE)
05/2010: Sheffield (UK)
06/2009: Conarky / Dubreka (GN)
02/2009: Bruxelles (Com. euro.)
12/2008: Conakry (GN)
05/2008: Plymouth (UK)
11/2007: Athènes (GR)
Encadrements de mémoires (Thesis supervision):
Doctorat (PhD): Gabriel Noiret (2021-…, avec L. Bellanger & N. Rollo), Sidy Fall (2021-..., avec A. Schlüter), Juliette Davret (2019-…), Adrian Robert (2020, avec S. Loiseau, D. Genest & T. Raimbault), Laurie Tissière (2018, avec S. Mahévas), Yannick Leroy (2018, avec C. Rioux & P. Fattal), Anaïs Penven (2014, avec J-P. Bergé) et Mathilde de Cacqueray (2011, avec C. Meur-Férec).
Masters: 72 mémoires encadrés
Jurys de thèse/HDR (PhD and Habilitation' examinations): 7
Mis à jour le 24 juillet 2022 par Brice TROUILLET.